On-demand in demand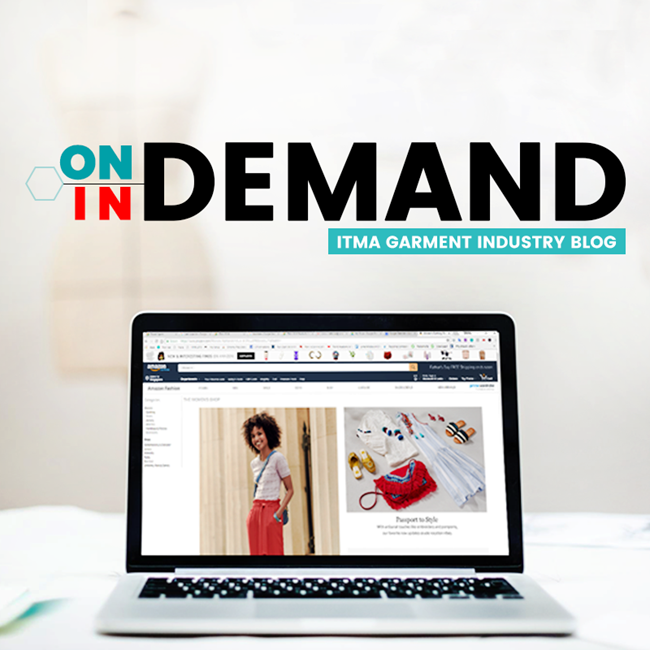 Next year's ITMA exhibition comes at perhaps one of the most buoyant periods in the history of apparel production technology. This is because manufacturers, both large and small, continue to jump in with both feet first to adopt new digitised technologies which continue to cater to more complex demands with increasing agility.
The benefits of these technologies are diverse. For a smaller business, access to a core workforce is the first hurdle… which has perhaps incentivised the adoption of 'localised production' for some – companies can now introduce an entirely machine-led supply chain, capable of more than its predecessors, closer to home.
For larger apparel manufacturers, digital technology has traditionally focused on improved sewing speeds, garment reproducibility and machine reliability, but apparel production is now turning more towards 'on-demand' manufacturing – where garments are created rapidly in a 3D format in response to the fashion sector's changing trends and ideas, rather than in anticipation.
Perhaps the trigger for this industry re-focus came courtesy of online retailer Amazon, which issued a new patent for 'on-demand panel cutting' – a development that could prove to be an 'all-in-one' solution for companies of all sizes, working straight from 3D designs. Encompassing a print, cut and assembly engine, the system maps out garment workflow step-by-step, and later harnesses Amazon's distribution hub to offer the convenience of local service to its customers globally.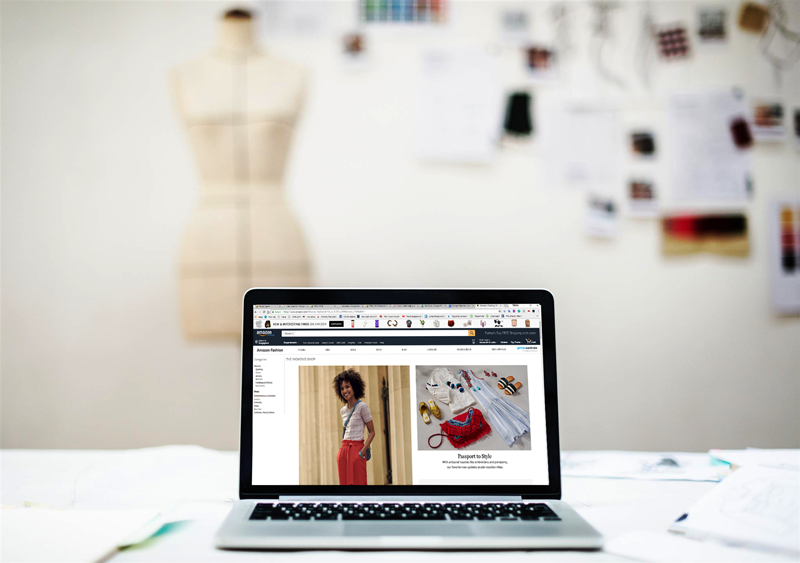 Online retailer Amazon's on-demand panel cutting enables companies of all sizes to work straight from 3D designs.
"Today what we are focusing is what we call 3D virtual design," Spencer Fung, Group CEO Li & Fung, told delegates at this month's Copenhagen Fashion Summit, who noted how most garment designers are still doing 2D sketches and then asking factories to produce samples – a process that goes on over a few months. "But what we are seeing is that if design is done on 3D photo-realistic software, you can skip the time, sample production – and basically reduce the speed a garment can get to the consumer by at least 3 to 6 months. This is a huge win for the retailer."
A cut above
Technological solutions experts have been quick to react to the changing needs of garment suppliers to keep up with the pace set by the likes of Amazon.
Lectra, for example, has just launched its new digital cutting room technology. Its technology boasts capabilities which others wouldn't have imagined around a decade ago. But such is the current pace of development, the intelligent fabric cutting device has a multitude of smart capabilities at its disposal, boosting productivity whilst yielding both fabric and cost savings.
Whilst disruptive technologies that increase speeds and outputs have been the goal of many in the apparel production industry for some time, it is now a new underlining ambition to create sustainable solutions which improve the bottom line and contribute to a more circular way of working that whets the appetite of modern day retailers. For garment suppliers, rather than tweaking optimum sewing speeds, they're now looking to leverage intelligent solutions that can equip budding businesses, and larger firms alike, with the tools to yield significant waste and cost savings.
"Speed is just one of the keys to success," admitted Frankie Wong, executive director of the Crystal International Group – a Hong Kong-based clothing supplier with an annual turnover of over US$1.6 billion. "Speed can be gained from enhanced transparency throughout each step in the supply chain by digitisation and collaboration. Consumers can also express how they feel about a product through social media … with such comments, garment makers can refine and then improve their designs to suit targeted consumer groups."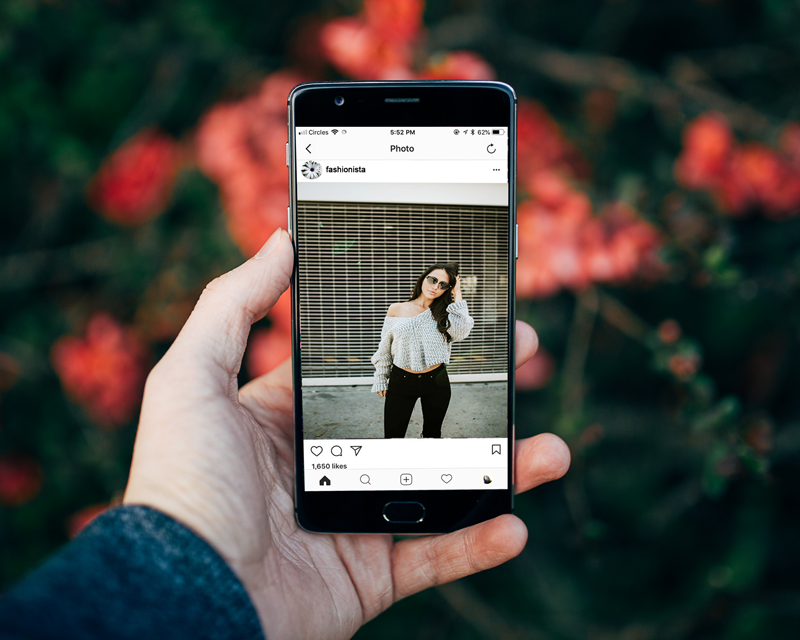 Consumers leveraging social media to give feedback on garment designs.
Printed fabric
It is this connectivity between consumer, producer and machine which makes technologies such as Gerber's Cloud-based solution a boon as it can cater to new trends reactively, rather than proactively, thus taking the guess work out of trend forecasting.
What's more, Gerber recently announced a partnership with digital print technology firm and ITMA exhibitor Kornit to establish a complete product workflow. As such, Gerber will use its proprietary CAD technology, alongside the Kornit Allegro printer, to take a product through design, print and production.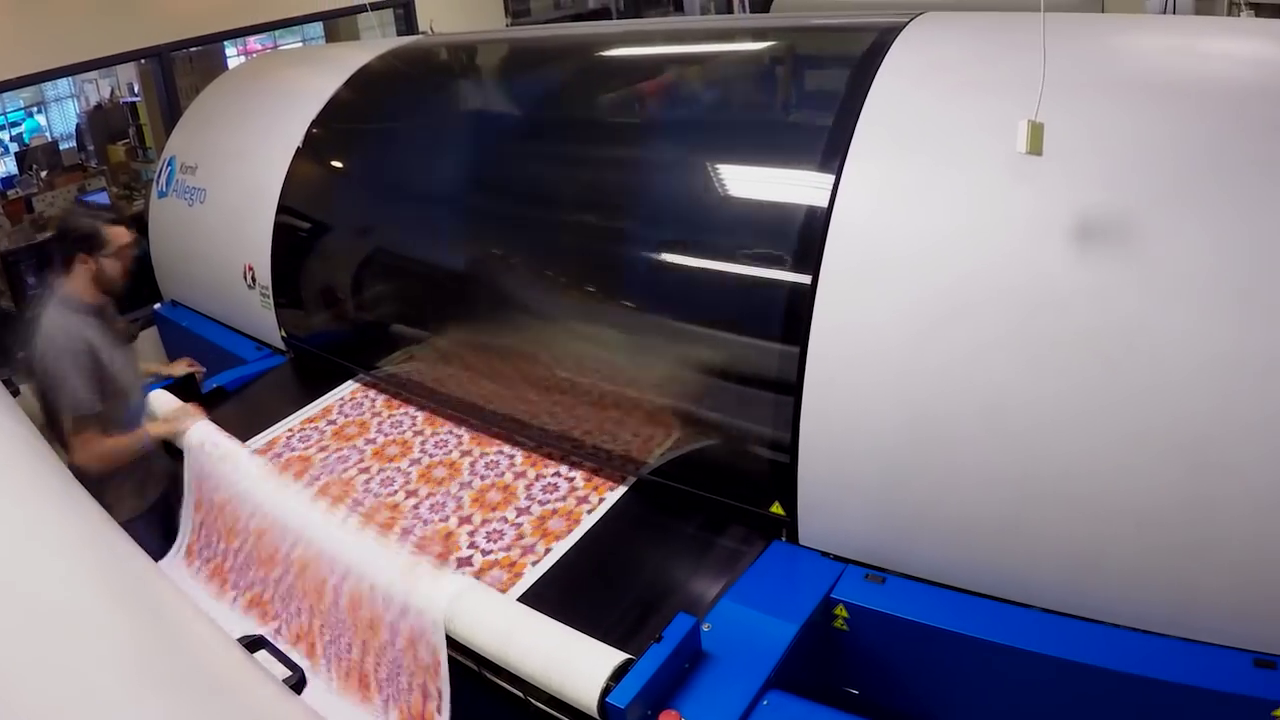 ITMA exhibitor Kornit partnering Gerber to offer its printing solutions.
As someone who deals directly with challenges faced by garment suppliers every working day, McFadden concluded "The world has been changing so much and our industry was kind of static for so long, so just in the last two years we have seen so much churn and a lot of our traditional customers are struggling or going out of business. Amazon has really put a lot of stress on our traditional customers. So, they've kind of exhausted their ability, but everyone's looking to automate, be more efficient, what we call 'turning data into speed'.
With the likes of Amazon demanding production data speeds that are light years ahead of the old fashioned innovation routes measured by sewing machine needle speeds, it's clear that garment production technology is now being driven harder by the retailers at the top of the supply chain than by the technology suppliers themselves.
Visitors to ITMA 2019 in Barcelona will likely draw the conclusion that garment production technology has almost come full circle from just four years ago in Milan. No wonder exhibition space has sold out one year in advance. And the organiser is opening up new halls to accommodate the speed of textile industry innovation today.
Share this article