Diverse roles for today's advanced fabrics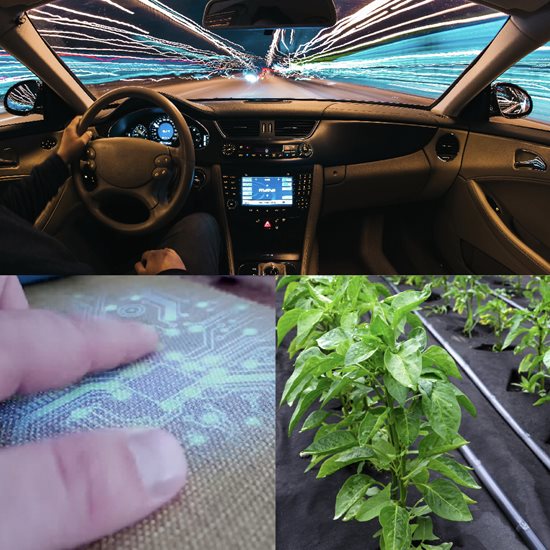 Over the Christmas 2022 holiday season, Amazon employed more than 1,000 new electric delivery vans in more than 100 cities across the USA for the first time. It intends to have more than 100,000 of them in operation by 2030 as part of a raft of measures that will enable it to become a net zero company by 2040 – ten years ahead of the Paris Agreement.
This is just one of the many developments that are creating major new markets for advanced fabrics – in this case for glass fibre-based composite reinforcements in the panels of the new vehicles. Machinery for the textile reinforcement of composites is an entirely new category at this year's ITMA 2023, including weaving, knitting and braiding technologies dedicated to the industry.
Fabric innovation
At ITMA 2023, and over the five days of the Innovator Xchange series of presentations being held alongside the exhibition in Milan this June, visitors will discover that new applications for advanced fabrics continue to emerge across many sectors.
Nowhere is this more evident perhaps, than in the fast-moving transportation industry, where some of the most recent developments for visible interior fabrics for seating and door panels include embedded smart materials as well as sustainably produced synthetic leathers and – to name just three example – fabrics created from the residual matter of apple juice, industrial cork cultivation waste and fishing nets and ropes reclaimed from the oceans.
In many other instances, the substitution of metals and plastics with sophisticated, largely concealed light-weight fabric structures or fibre-based composites has allowed automakers and their component suppliers to lower costs by reducing the weight of vehicles.
Electric vehicles
Many opportunities are also arising in the fast-accelerating transition from the conventional internal combustion engine (ICE) to electric vehicles (EVs) and alternative methods of propulsion, especially for nonwovens and composites.
A big application for fabrics in ICE vehicles, for example, is in multi-layered insulating materials for absorbing the noise of the engine and dampening the vibrations caused by it. Many of these materials are superfluous in EVs, but at the same time, other noises are helpfully masked by an engine. As a result, sound reduction can be even more critical for EVs because external as well as internal sources such as fans, pumps and electronic drive components are more audible.
Outdoor filtration
Advanced fabrics are also central to the filtration industry. The dangers of airborne viruses and other contaminants to health were known long before the Covid-19 pandemic, as was the fact that the quality of indoor air also has a direct influence on both the cognitive performance and wellbeing of people.
Post-pandemic, effective filter media remain central to air purification in buildings, and this is now being taken to the next level – with outdoor filtration installations.
These 'Filter Cubes' have been developed by filtration company Mann+Hummel for particularly polluted roads and junctions, to draw in the polluted air and bind over 80% of the nitrogen dioxide (NO2) and particulate matter (PM10). The heart of the technology is a combination filter which comprises a highly effective nonwoven particle filtration layer and activated carbon layers that adsorb nitrogen dioxide. The activated carbon media absorb NO2 very effectively due to their large surface area.
Geotextiles
Another key market for advanced fabrics is as geotextiles, as part of the family of geosynthetics that today includes, geocells, geofoams, geogrids, genonets, geomembranes and a number of other specialised materials.
To meet the needs of global construction projects, the leading manufacturers are increasingly providing these materials in multi-layer combinations to solve specific functional requirements.
In addition to roads, geosynthetics are used extensively in the construction of railways, retaining structures, embankments, tunnels, pipelines and landfills. In addition, they are employed in coastline protection works and marine structures, while waste water treatment in mining and the upstream oil and gas sectors is a key area of growth.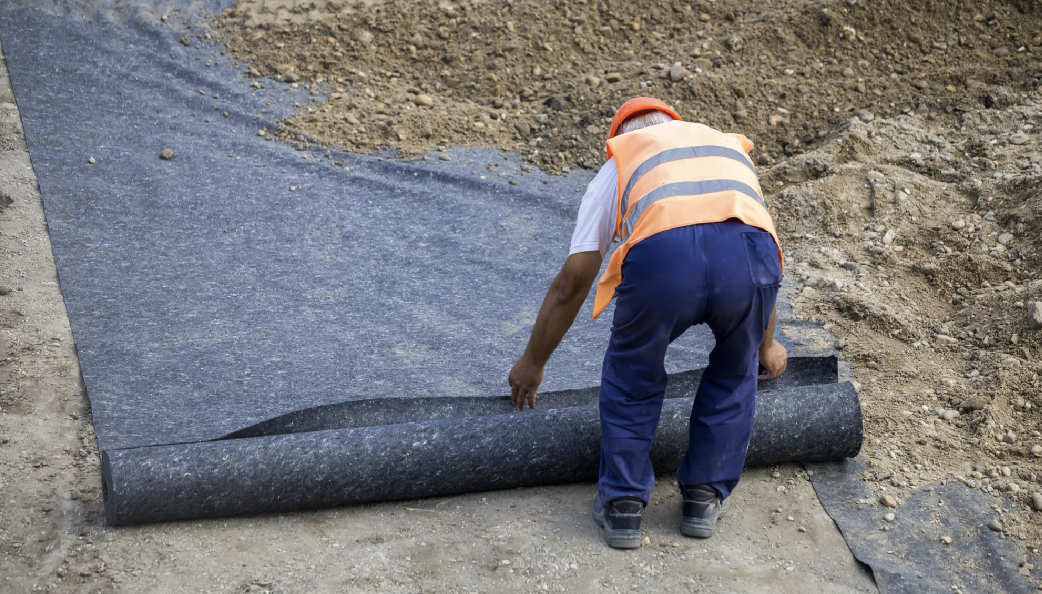 Impact
In addition to the speeding-up of construction processes and cost advantages, when compared to simply using natural soils, geosynthetics also have a much lower environmental impact. This reduces both CO2 emissions and the need for excavations in quarries or in other environments.
A key element in many construction projects, meanwhile, is accommodating challenging terrain that requires walls and steep slopes. Here, geogrids and geotextiles often work in concert with soils to construct safe, resilient and long-lasting surfaces.
At ITMA 2023, visitors will discover there is much more to the textile industry than clothing and apparel, and learn first-hand about the technologies that are driving ever-expanding applications.
Share this article