Libraries of digital weaving excellence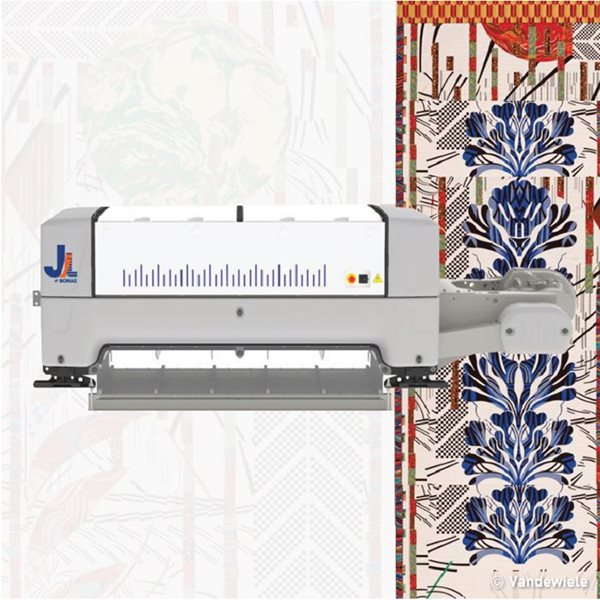 It's extremely hard to explain how significant Industry 4.0 and the digitalisation of the entire textile and apparel supply chain is – and beginning with the technology, equally as difficult to demonstrate many of its benefits at an exhibition.
At the last ITMA in Barcelona in 2019, for example, Vandewiele demonstrated 10 Bonas advanced jacquard systems containing a combined 128,000 micro-selector sensors. With this increase in digital sensors and actuators and connecting machines through data, new things become possible.
Jacquards are now driven by smart drives directly mounted to weaving looms and eliminating the need for gear boxes, while with smart creels, total flexibility in weft and warp yarn composition, raw material and thickness has become standard. Running difficult yarns in weft and simple yarns in warp, for example allows machines to run at full speed without warp breakages or tension problems and individual warp ends control gives free rein to creativity.
Some of the possibilities of digitalisation can be easily demonstrated, for instance by the ability to scan any image into such a system and have it expertly rendered as a fabric – with every pixel matched to precision warp and weft placement – in a matter of minutes, but there's much more to it than that.
Continuous improvement
Digitalisation is both driving the development of new technologies and also leading to an environment of continuous improvement for Belgium's machine builders.
Since data can come from anywhere, a key strength for these companies is having both R&D and manufacturing at the same locations. Having those involved in research close to machine assembly plants can make a lot of difference because as machines become increasingly customised in mills around the world, the harder it becomes to build them in series without access to all production data.
At the site of the customer, digitally-enabled smart factory production machines can talk to each other and make a lot of new features possible, including real-time monitoring, correcting based on historic data and instantaneously adapting in real time, which with the latest Belgian weaving machines operating at the highest speeds attainable to date, is very much a necessity. More than anything, digitalisation is about increasing the optimal flow of the entire plant, and increasingly, networks of plants operating in sync around the world.
Intuition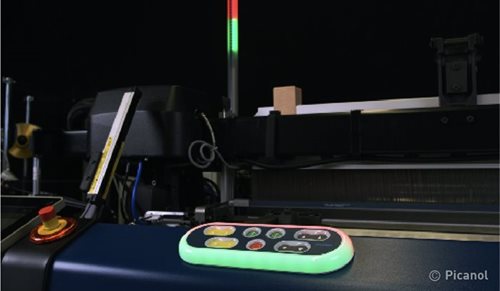 Weaving, however, is never just a matter of numbers, parameters and settings, but also relies on the intuition, experience and the gut feeling of the expert weaver, who is able to feel when something isn't right or a machine is off sync, and sense when settings need to be fine-tuned.
It is this very intuition, however, that Picanol has now digitalised with its latest PicConnect platform, which provides a wide range of features, from industrial IoT to service-related applications, as well as brand-new functionalities, such as applications for energy and production monitoring, digitalised gripper stroke setting and gripper tape monitoring, climate control and shed angle measurement.
PicConnect enables the creation of a library of machine settings and when machines are connected, the settings can easily be sent to and from the platform. Ensuring machines all use the optimal settings is extremely convenient and the settings can be easily visualised for an intuitive overview, and then edited, to further fine-tune performance.
An additional feature is the ability to compare the settings of two different machines or compare the actual settings of a machine with a reference file. This highlights the differences between the two machines, and settings can be copied from one file to another. After settings have been changed or copied, all machines in a weaving mill can then be optimised with just a couple of clicks.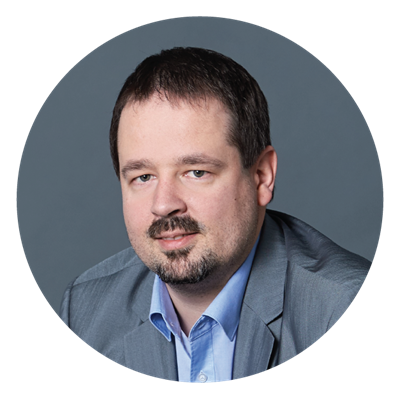 Stijn Pauwels, Manager, Belgian Textile Machinery Association (Symatex)
About Symatex
Symatex, the Belgian Textile Machinery Association, represents an industry consisting of 33 companies with a combined annual turnover of over €1.6 billion. Many of its members are largely known for weaving expertise and in addition to weaving looms, a vast array of other technologies for weaving mills are in the portfolio, from yarn preparation to finishing.
Share this article