Viva Italia for industry excellence!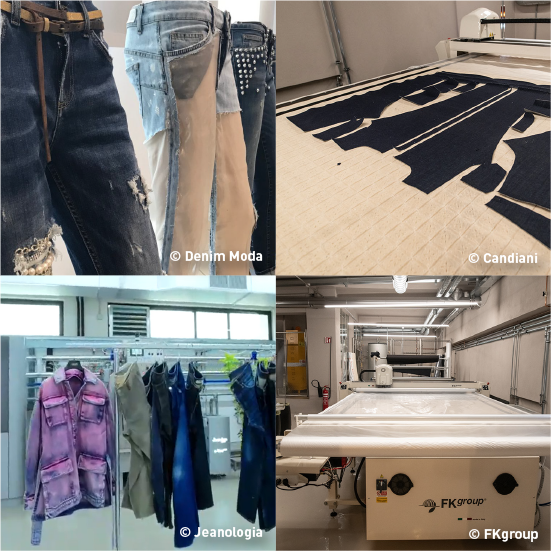 It comes as no surprise that all three of the nominated projects for the ITMA 2023 Sustainable Innovation Award for Industry Excellence share a common goal of enhancing resource efficiency and reducing waste and simultaneously improving fabric performance.
Adding to their significance, these innovative initiatives are being spearheaded by Italian companies, aligning perfectly with Italy's role as the host country for this year's ITMA. They are:
• Limonta, nominated by Navis TubeTex for the new Bio-FREED dyeing system.
• Candiani SpA, who has been nominated by Bergamo, Italy-based partner FKgroup, for the development of the Candiani Custom services package.
• Denim Moda, nominated by Jeanologia for the establishment of the Denim Moda Urban Factory in Italy.
Power of proteins
Limonta, the vertically-integrated textile group headquartered in Costa Masnaga, Italy, worked with New Jersey-based protein biochemicals company Modern Meadow and ITMA exhibitor Navis TubeTex on the development of Bio-FREED, powered by Bio-Alloy™.
By eliminating a number of the process steps in traditional dyeing, this one-step continuous foam-based dyeing and coating process reduces water by 90% and energy consumption by 67%, in addition to achieving an 80% reduction in the dyes used through precision delivery.
"Bio-FREED textiles can be pre-dyed or post-dyed after garment construction, enabling unique design efficiencies and additional environmental and supply chain benefits," explains Jeff Dixon, senior director of sales at Navis TubeTex.
The Bio-FREED technology and Modern Meadow's protein-based bio coatings and dyes have been initially used by Limonta to create Bio-Tex, as a sustainable alternative to traditional, chrome-tanned leather.
"The technology enables Modern Meadow's protein functionality to be delivered very precisely to fibre surfaces, providing a new route to circular textiles," Dixon says. "Applying the protein to a textile preserves the fibre properties without introducing covalent bonds between the coating and the underlying fibre substrate, preserving the fibre for future use. We are excited about the possibilities of combining waterless foam dyeing and these new biofabricated chemicals."
Milan's microfactory
Candiani Denim has opened a microfactory in the heart of Milan where clients can buy completely customisable men's bespoke jeans. The fabric is cut by a new FKgroup cutting machine designed specifically for this project.
"It's a cutting machine that can be adapted to small spaces typical of a workshop or shop in city centres, especially in cities like Hong Kong or Paris where every centimetre counts," says FKgroup managing director Sergio Gori.
"When it comes to sustainability in the textile industry, the most important consideration is the issue of overproduction, and this is where our Candiani Custom project involving FKgroup comes in," adds Alberto Candiani. "Fast fashion companies are reporting nine-figure numbers in unsold sales and today it is estimated that around 25 billion new garments are sent directly from the warehouses to landfills or incineration. This is a huge waste of raw materials and energy. Denim is a very large part of this and overproduction is a major problem. The Candiani Custom project addresses it.
Denim Moda has meanwhile established an urban factory in Spinetoli, Ascoli Piceno, in central Italy which it has equipped with Jeanologia garment finishing technologies as part of a full range of the latest equipment for the realisation of sustainable new denim and cotton products – from initial idea and design through to full prototyping.
Services for brands include the thorough research and testing of raw materials, accessories and all other aspects of product personalisation, in order to ensure a perfect balance between aesthetics, quality and price for each individual product. A high attention to detail from a team of product designers complements and enhances initial ideas with a large variety of treatments aimed not only at the aesthetic aspects of the finished garment, but primarily provide the product comfort and functionality.
Prototyping is then carried out with full interaction with the customer at all stages.
"The technologies of Jeanologia are based on automation, connectivity, digitalisation, sustainability and creativity, with the focus on achieving an authentic fashion product, in a sustainable and efficient way, and at the lowest production cost," said Stefano Pizzingrilli, Denim Moda CEO.
Share this article