The transformation is underway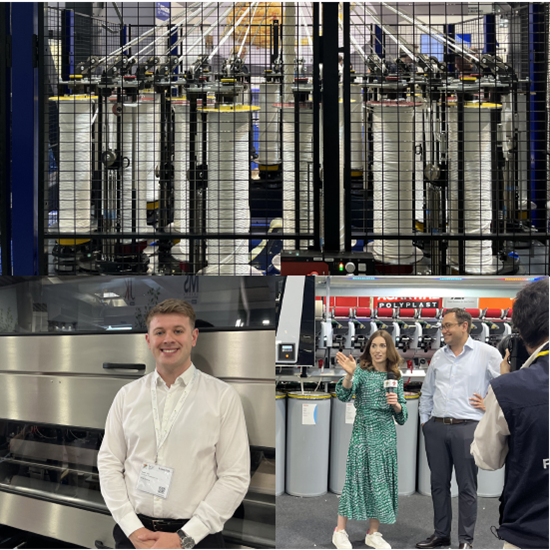 On the eve of the opening of ITMA 2023, the ITMAlive film crew were already hard at work interviewing key companies who are playing their part in the current transformation of the textile industry.
The first slick ITMAlive broadcast that is being shown on all the big screens throughout the fairgrounds today is a far cry from the chaotic scenes in which these interviews were conducted, with machines being started up and tested, forklift trucks charging around, a cacophony of hammers and drills and endless blasts from the tannoy system all in competition.
This, however, is only to be expected on the day before such a major show!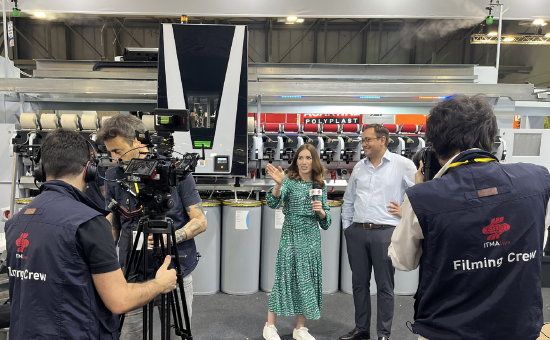 ITMA Live presenter Amy Burrows and the team interviewing Saurer managing director Marcus Rennekamp yesterday.
Extreme recycling
Nevertheless, from these first initial interviews, it's already evident, for example, that much is being achieved in the adoption of new raw materials and the need for much more recycling to rapidly take place.
As a leader in traditional cotton spinning technology, Switzerland's Saurer has more than a million spindles in operation on its Autocoro spinning units worldwide, and here in Milan is introducing its rX Recycling Xtreme concept.
"Today only between 30-35% of textiles are collected separately, but by 2030 the aim in Europe is that up to 80% will be recycled in some way and that the share of fibre-to-fibre recycling will grow to 18-26% from just 1%," the company's managing director Marcus Rennekamp explained.
"A high degree of contamination, reduced production speeds and a lot of personnel intervention are all common consequences of using recycled short-staple fibres in a rotor spinning mill. Extreme recycling is the new challenge for yarn producers, with ultra-short fibres bringing conventional spinning machines to their limits."
Today, Saurer is announcing a major new initiative with partners Renewcell, the Swedish company behind Circulose, the new fibre that can be made from 100% textile waste, and Portuguese spinning specialist Inovafil.
Circular by design
Säntis Textiles, a Swiss-owned, Singapore-headquartered company is also introducing its RCO100 technology with which it is already recycling around 100,000 tons of cotton annually here in Milan.
"RCO100 technology works by taking pre-consumer industrial waste and post-consumer cotton garment waste to produce 100% recycled cotton yarns without the use of chemical processes," explained managing director Annabelle Hutter. "Since its conception in 2016, RCO100 technology has been implemented by global brands to produce 100% recycled cotton wovens, nonwovens and knits, providing more circular design solutions for the modern designer."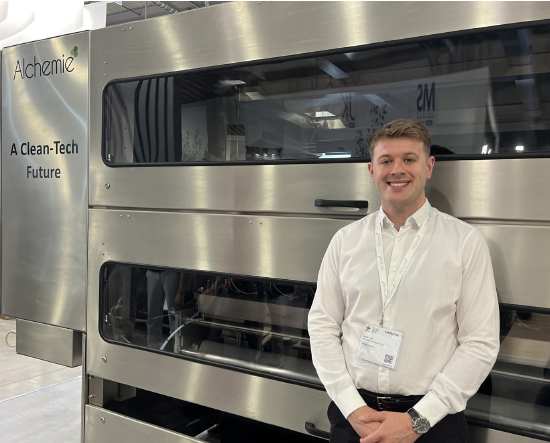 Harry Vine, product specialist for Alchemie, introduced the company's resource-saving digital dyeing and finishing technologies.
Bottleneck
Big changes are also afoot in the area of dyeing and finishing – currently an energy-intensive bottleneck.
There are currently an estimated 90,000 jet dyeing machines in operation worldwide and between 60-70% of them are outdated to a factor of two-to-three in terms of the savings in energy, water and dyes and finishes that can be made – even with the latest conventional systems. That productivity gap is considerably higher when considering the latest highly-digitised and precise non-contact spray systems for these processes that have been introduced to the market by companies such as the UK's Alchemie and Sweden's imogo.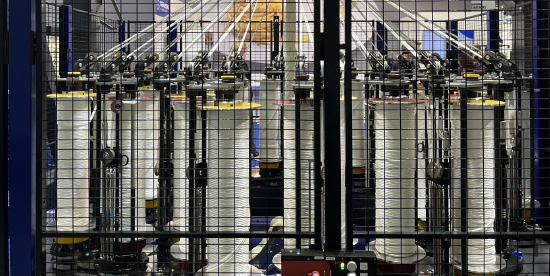 Herzog's braiding technologies are widely employed in the creation of near-net shape carbon fibre composite preforms and ropes 75% lighter than steel.
Composites
Beyond the apparel sector, textiles are also employed in many technical applications, such as braided composite reinforcements. Here they are enabling the lightweighting of trains and boats and planes and much and much more, and millions of tons of CO2 emissions are being eliminated as a consequence.
A leader in braiding technology is Germany's Herzog.
"Our braiding technologies are widely employed in the creation of near-net shape carbon fibre composite preforms – 3D textile structures as close to the shape of the final finished component as possible," explained Herzog's CEO Dennis Behnken. "In addition to composite preforms, two other key growth areas for braided textiles are ropes and medical products."
The ability to replace steel with high strength fibres such as aramids, Dyneema and Vectran has resulted in ropes that have 75% less weight with all of the advantages that bring in terms of towing, mooring, anchoring and lifting and lowering. In addition, ropes made from these fibres have ten times the working life of steel equivalents.
In medical products such as sutures, artificial ligaments and stents, braided fabrics are increasingly the preferred choice for their flexibility in terms of the customised shapes and patterns that can be achieved and the specialised fibres that can be accommodated.
These are incredibly sophisticated textile-based products, and there are many more such innovations to be discovered here in Milan this week.
Share this article