One million needles and the new green energy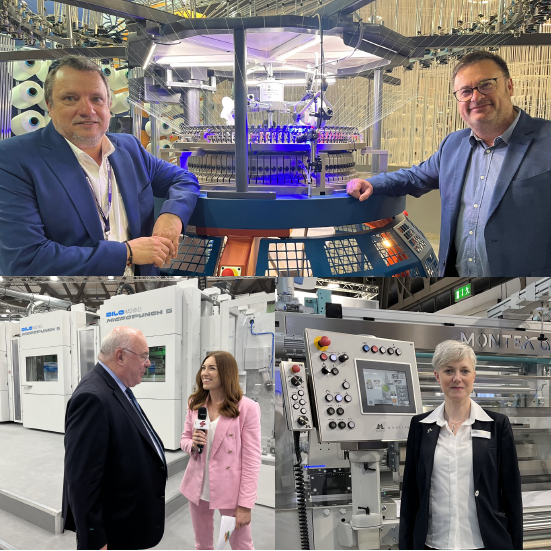 Digital automation is moving hand-in-hand with the push for more sustainable production and leading to some intriguing new concepts which are being introduced here in Milan.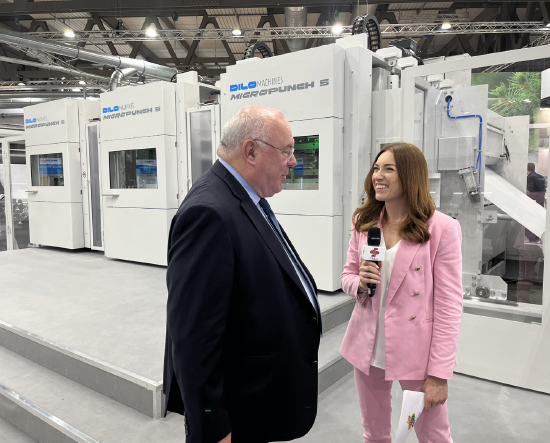 Johann-Philipp Dilo outlines the MicroPunch concept to ITMALive presenter Amy Burrows.
One such, is the new MicroPunch needlepunching system for nonwovens which is being demonstrated at Dilo's stand. It has been developed as a low-energy alternative to the hydroentangling process, largely for the production of wipes substrates and medical nonwovens, with weights below 100gsm.
The company's CEO Johann-Philipp Dilo, explained that hydroentanglement – or spunlacing – is an extremely energy-intensive process. "The process is based on high pressure jets which have to be formed continuously and all of that kinetic energy is completely lost," he said. "In addition, there is continuous water consumption and losses, as well as fibre waste generation."
Dilo's Hyperpunch and Cyclopunch machines already operate at speeds of up to 150 metres per minute and stroke frequencies of 3,000 metres per minute. Continuous waterjets, however, create webs with good abrasion resistance and density, and to achieve the same with needling requires needle densities of between 800-900 per square centimetre.
This, incredibly, is what MicroPunch can do. It builds on Dilo's development of high density boards containing 20,000 needles per metre with barbs of between 20-40 microns, first introduced at ITMA in 2007.
A significant increase in that needle density has now been achieved to up to 45,000 needles per metre of board – making full lines with over one million needles conceivable.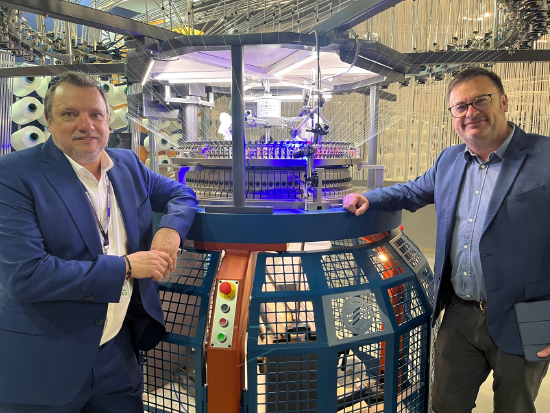 Eurecat's Xavier Planta Torralba and Enric Marti of CanMartex/ASB explain their AI system.
Fabric Brain
High speed circular knitting machines can also be equipped with thousands of needles, along with their accompanying sinkers, and wear and tear on these components has been estimated to account for around 45% of all faults in production.
Employing artificial intelligence (AI) and machine vision, Spain's Canmartex, owner of the Jumberca machine brand, has developed a system to completely eliminate needle and sinker problems. Developed in a cooperation with Barcelona-based Eurecat, it will be marketed by new spin-off subsidiary ASB.
"Our system consists of a number of programs powered under the Fabric Brain umbrella, that address various common problems in circular knitting," said ASB managing director Enric Marti. "It can be supplied as a stand-alone system for circular knitting, both on new machines and retrofitted to existing models."
"Most importantly, the system can identify any defect in the condition of every single needle and sinker prior to starting up the machine, rather that encountering the fault during production," explained Xavier Planta Torralba, industrial technological area director at Eurecat. "It's an opportunity to truly move from analogue to digital and Industry 4.0 in circular knitting."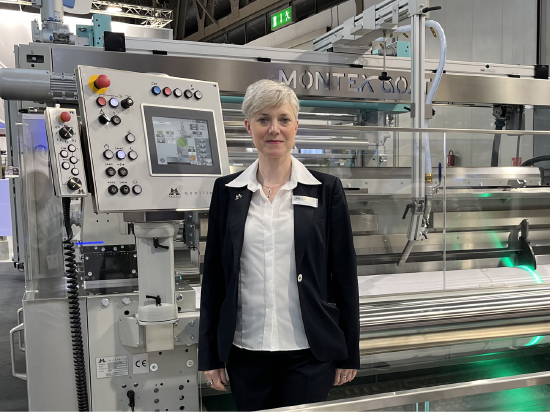 Monforts marketing manager Nicole Croonenbroek at the Montex Coat.
Hydrogen
Another new idea is that of using green hydrogen as a new energy source for the textile finishing, drying and related processes. This has already been the subject of two very well-attended seminars held by Monforts at its stand.
Monforts is currently leading a consortium of industrial partners and universities in the three-year WasserSTOFF project, launched in November 2022 to explore all aspects of this exciting and fast-rising new industrial energy option.
The target of the government-funded project is to establish to what extent hydrogen can be used in the future as an alternative heating source for textile finishing processes. This will first involve tests on laboratory equipment together with associated partners and the results will then be transferred to a stenter frame at the Monforts Advanced Technology Center (ATC) in Germany.
"Everybody knows that textile finishing is a high energy consuming process," says Monforts managing director Gunnar Meyer. "To make this process more efficient, Monforts already offers several solutions. Green hydrogen's potential as a clean fuel source is tremendous, but there is much we need to explore when considering its use in the textile finishing processes carried out globally on our industry-leading Montex stenter dryers and other machines."
Monforts marketing manager Nicole Croonenbroek added that visitor footfall here at ITMA 2023 has so far been well beyond the company's expectations. "We secured a number of significant and unexpected orders on the very first day of the show, and it's got better from there," she said.
The Montex Coat system displayed on the company's stand, for example, has been sold to a Vietnam company and features a number of advanced new improvements, including automatic edge limiters for immediately adapting to new coating widths, saving considerable setting up times, and a new and simplified hand-held control device.
Share this article