The crucial role of cooperation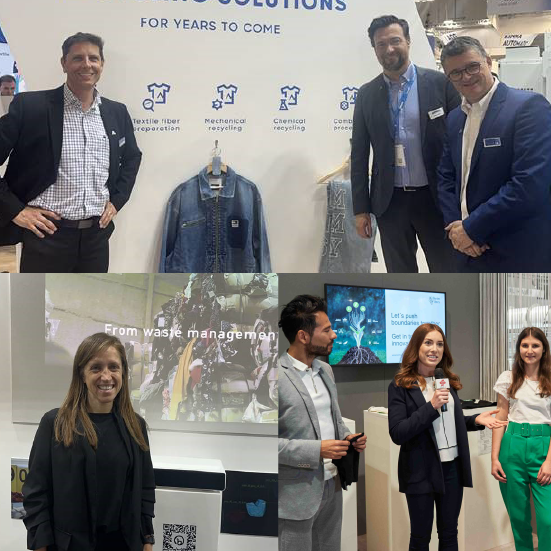 The opening day of ITMA 2023 was extremely hectic, with many events highlighting ongoing moves in the direction of a more sustainable and circular textile industry.
Major announcements made during the morning's official ITMA press conference included news of future ITMA shows in Singapore in 2025 and Germany in 2027, with confirmation that here in Milan, some 1,709 exhibitors from 47 countries are present.
The European Union's Strategy for Textiles is calling for all textile products on the EU market to be durable, repairable and recyclable – and largely made of recycled fibres – by 2030. This is notably leading to the establishment of many important new supply chain partnerships.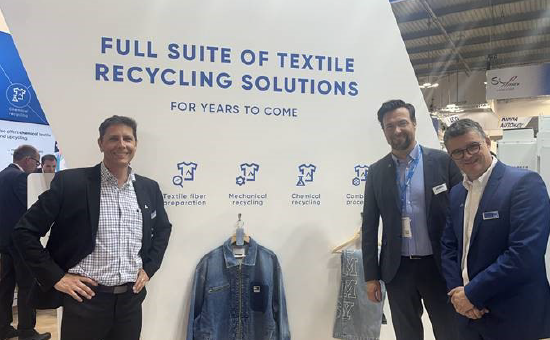 Pictured are Alexandre Butte, Tobias Schäfer and Charles Junker of the Andritz team here in Milan.
Recycling and sorting
Textile and nonwovens technology leader Andritz, for example, has entered into a partnership with French companies Pellenc ST and Synergies TLC to set up a new industrial-scale business combining automated sorting and fibre recycling technology.
The new business, Nouvelles Fibres Textiles, will establish post-consumer textile value chains from sorting to manufacturing. Its new textile sorting line will combine Pellenc ST's automated sorting technologies with Andritz recycling technology.
"This new company will process post-consumer textile waste to produce recycled fibres engineered for the spinning, nonwovens and composites industries," said Andritz vice-president Tobias Schäfer. "Starting operations soon, it will serve as a production line for Nouvelles Fibres Textiles, as an R&D line for the three partners, and as a test and demonstration centre for customers."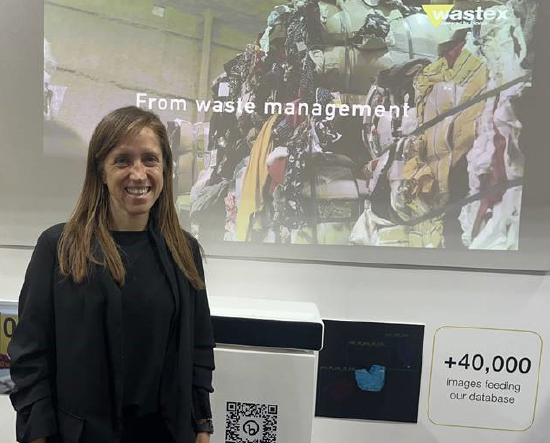 Silvia Gregorini of Picvisa.
Digital infrastructure
The accurate and highly automated sorting of waste garments has been identified as a major bottleneck in accelerating the recycling of textiles, which makes the debut of Spain's Wastex at ITMA 2023 timely – the new company has been formed to provide the physical and digital infrastructure for accurate garment sorting in textile recycling centres worldwide.
A joint venture between two Barcelona-based companies, Coleo, a textile manufacturing company specialising in recycled fibres, and Picvisa, a technology firm supplying sorting machines, Wastex focuses on streamlining textile waste sorting for reuse, recycling and upcycling.
This is enabled by the cutting-edge Ecosort Textil system, which uses a combination of NIR (near-infrared) and RGB cameras, as well as AI technology, to efficiently sort textiles – with up to 24 separate outputs –and provide high-quality recycled yarn feedstock for the textile manufacturing industry.
"Wastex offers various automated sorting solutions for different stages in the textile recycling process, such as removing contaminants, separating reusable textiles, categorising materials by composition and colour, and preparing materials for recycling," said Silvia Gregorini, Head of Sales from Picvisa. "Central to our strategy is the Coleo Network – a collaborative platform that enables partners to access guaranteed sales of recycled materials."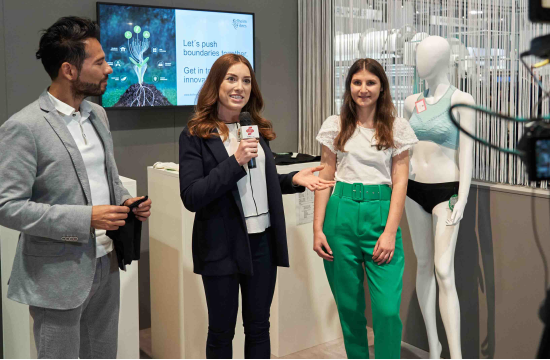 Patrick Silva Szatkowski of Santoni and Natalie Wunder of Kelheim Fibres GmbH being interviewed on their collaboration.
Fibres/machinery innovation
Kelheim Fibres GmbH and Santoni SpA have meanwhile jointly developed a sustainable menstrual underwear garment based on advanced machine technology and high-quality performance viscose fibres.
The product consists of a soft outer layer and an inlay made from special wood-based fibres from Kelheim. The result is a sustainable and high-performance product that combines comfort and functionality.
"Our machines have changed the manufacturing process, making garments almost seam free and offering solutions for 3D knitting," said Santoni marketing manager Patrick Silva Szatkowski, "Our goal is to provide efficient machines to produce sustainable and comfortable garments while reducing the quantity of operations. The collaboration with Kelheim Fibres GmbH has been driven by the same values and we are proud of the excellent result".
"With this joint development and the combination of our different areas of expertise we have expanded our range of femcare products," added Natalie Wunder, project manager for new business development at Kelheim. "We look forward to seeing this project commercialised soon and new partners are always welcome."
These are just a few example of the supply-chain wide partnerships that are now being forged to drive sustainable change.
Share this article