Ride the Growth Opportunities of Composites
Textile reinforced composite materials are lightweight, stiff and strong. As such, they are increasingly used in various industries, including aerospace, construction, automotive and sports.
Although composite solutions have been showcased in past ITMA editions, consolidating them under a product sector will facilitate easier sourcing for buyers. With the launch of the composite product sector, ITMA 2023 will bring together the entire textile ecosystem through a leading-edge showcase of innovative technologies and materials, dynamic collaborations, robust discussions, live machinery demonstrations and innovation forums.
ITMA manufacturing value chain for composite sector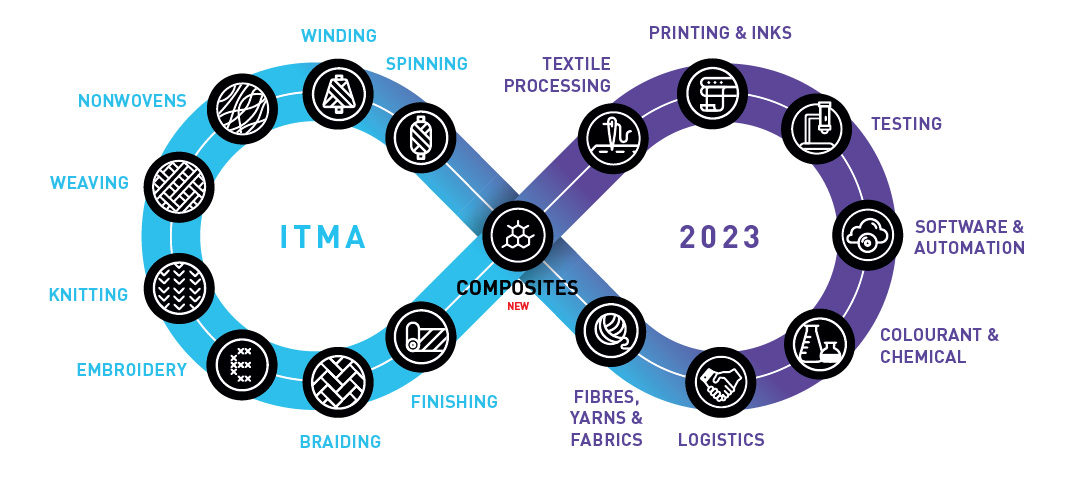 New Composite Product Index at ITMA 2023
Chapter 11: Machinery for Textile Reinforcement Structures for Composites, Auxiliary Machinery and Accessories
11.1 - Machines for the production and treatment of special fibres
11.2 - Filament winding machines
11.3 - Fibre spreading machines
11.4 - Tape laying machines, fibre placement lines
11.5 - Coating and impregnation machines for prepreg production
11.6 - Other machines for the production of reinforcement structures
11.7 - Special testing equipment for textile reinforcement structures
11.8 - Auxiliary machinery and accessories for machines for textile reinforcement structures
For composite fibres and yarns, refer to Chapter 20 – Fibres, Yarns and Fabrics.